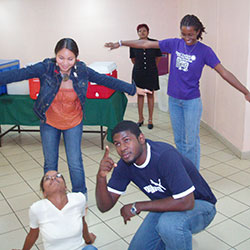 Through its various departments, The barcam caters to varied needs. Among the services offered are capacity building, mediation, environmental conservation, and personal and professional development programmes.

Contact us so that we can design a programme suited to your needs. Our professionals are always ready to discuss your development.

Personal & Professional Development, Capacity Building Workshops.
Events Management.
Interventions (Developmental Theatre, Capoeira, Music & Dance).
Address: #7 Warner Street, Point Fortin, Rep. of Trinidad and Tobago W.I.
Phone: Selvyn Lewis (868)-765-6889 / Gachelle Gilkes 1(868)-484-4004
Email:

This email address is being protected from spambots. You need JavaScript enabled to view it.

,

This email address is being protected from spambots. You need JavaScript enabled to view it.