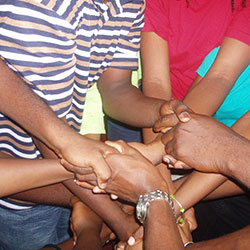 The following highlights some achievements of the organisation:
To date, the organisation has worked in at least twelve (12) Caribbean islands and other CARICOM states including Guyana, Suriname and Belize.
The barcam has participated in exchanges and international projects in the U.K, Africa and Malaysia.
The barcam has trained at least one thousand, five hundred (1,500) Peer Educators throughout the CARICOM region.
Eight (8) members have received cabinet appointments from the Government of Trinidad and Tobago to serve various interests.
Sixty (60) members are recognised consultants in youth, community and developmental work and have repeatedly been called upon to lend technical support in capacity building and institutional strengthening for organisations within the Caribbean and internationally.
Expanded its base from South Trinidad (Point Fortin) to a branch in North/East Trinidad (St. Augustine) while solidifying links for a branch in Tobago.
E.C.O. The environmental department of the organisation received a BP TT award for the environment with funding for its LIFE project (2000).
The barcam received grants from UNDP Trinidad and Tobago in 1999 and 2004 to pursue development work in communities throughout the country.